Timelines in Case Builder allows users to create timelines (or chronologies) in the cloud that are available and modifiable throughout the entire lifecycle of a case. Various work product can be appended, witnesses can be associated, and evidence can be linked to each fact within a timeline. This article provides an overview of getting started with and using Timelines.
When you first login or navigate to the Timeline page, you will see an empty state, where the case team can begin to add facts and start to craft an effective case narrative. Note that after the first fact is created, only the icon on the top right will be available to create facts.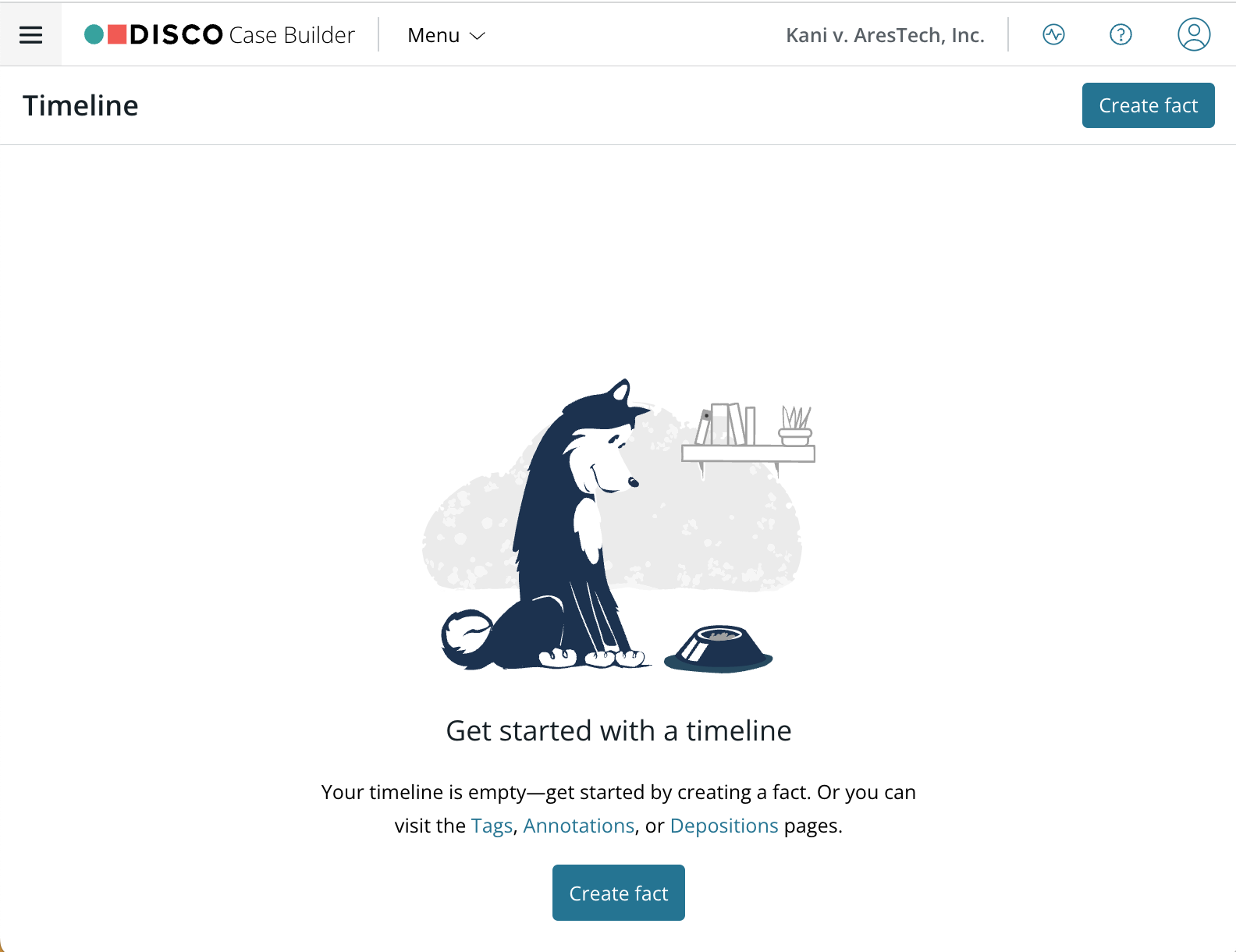 Only a title is required for creating a timeline fact. However, at any time you can optionally add a date (or date range), full details, evidence, statuses, tags, or witnesses to facts as well. Note that new facts are appended to the top of the timeline after creation until the browser is refreshed, when they are slotted as appropriate according to your sort and search.
Varying degrees of date precision is permissible, depending on what information you know (and can always be modified later as you learn more), including: (1) year only; (2) month and year only; or (2) day, month, and year. Time can also be added if it is relevant to any fact, and you can also leave a fact undated. Dates accept a variety of formats for entry, such as 2/4/22; 2-4-22, Feb 2, 2022, Feb 2022, or February 2022. Note that a quick reference guide for dates is available by clicking on the "i" icon when creating a fact.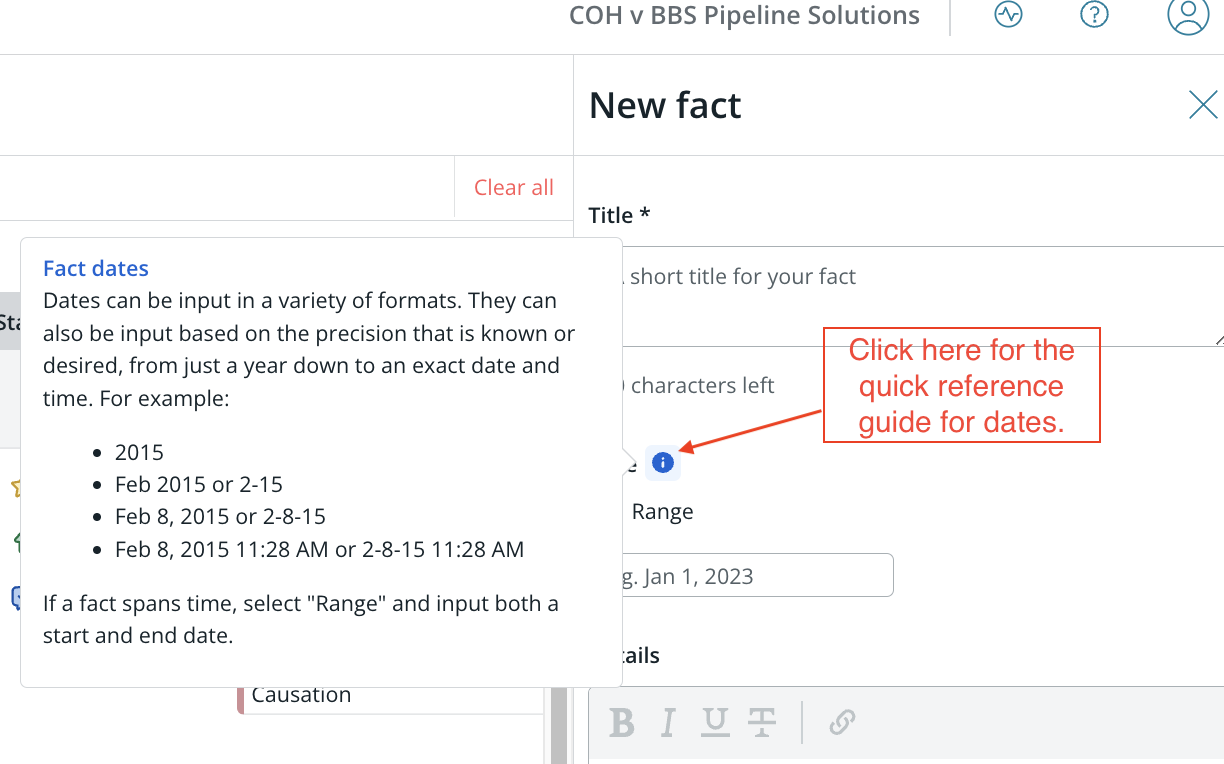 Evidence can be added to your fact upon creation or later using the inline edit feature. You must input something in either the evidence title, URL link, or details field in order to create the evidence. For the URL link, you can link to anything that is accessible via the internet, like a DISCO Ediscovery document or an online press release.
You can also note the relationship of the evidence to the fact as either Proves fact, Disproves fact, or Neutral or leave the relationship as unassigned.
(Add evidence - New fact form)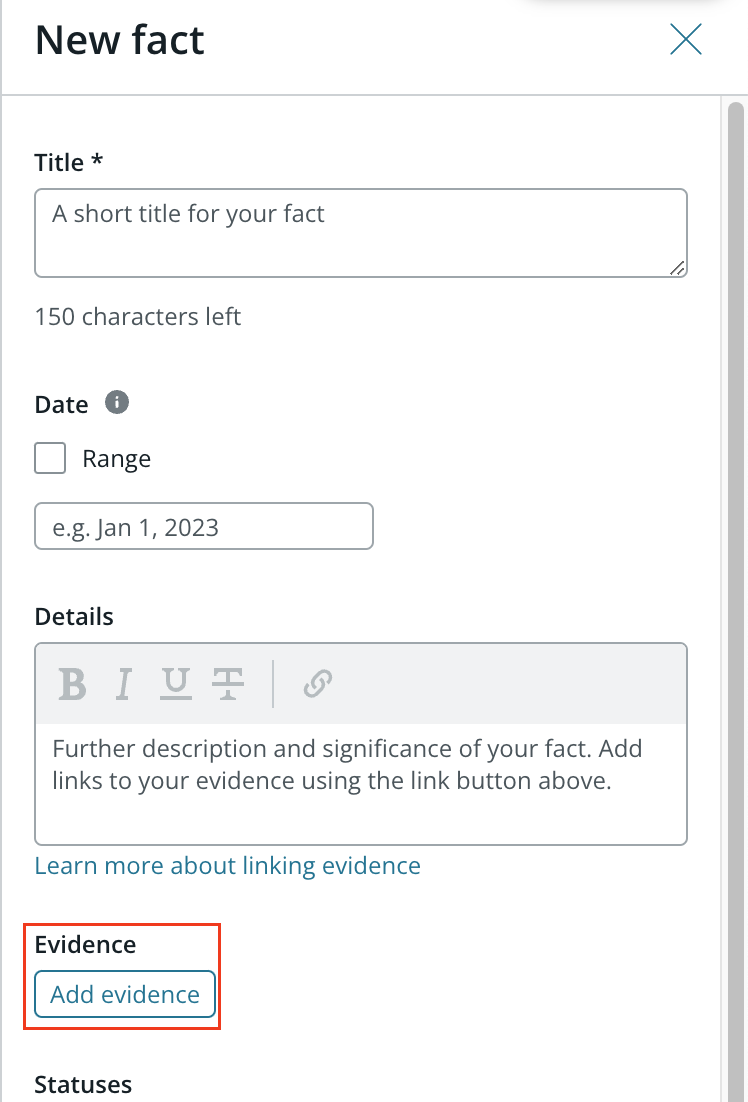 (Add evidence - inline in Timeline view)

If you use DISCO Ediscovery, documents can be linked by pulling the link from the document viewer or from any search in the Search & Review, which can include tags or folders. Using folders or tags in Ediscovery means that relevant evidence will automatically be included on the timeline as new documents are added to a folder or receive a tag in Ediscovery. See more information on linking in DISCO Ediscovery here.
(linking individual document from DISCO Ediscovery)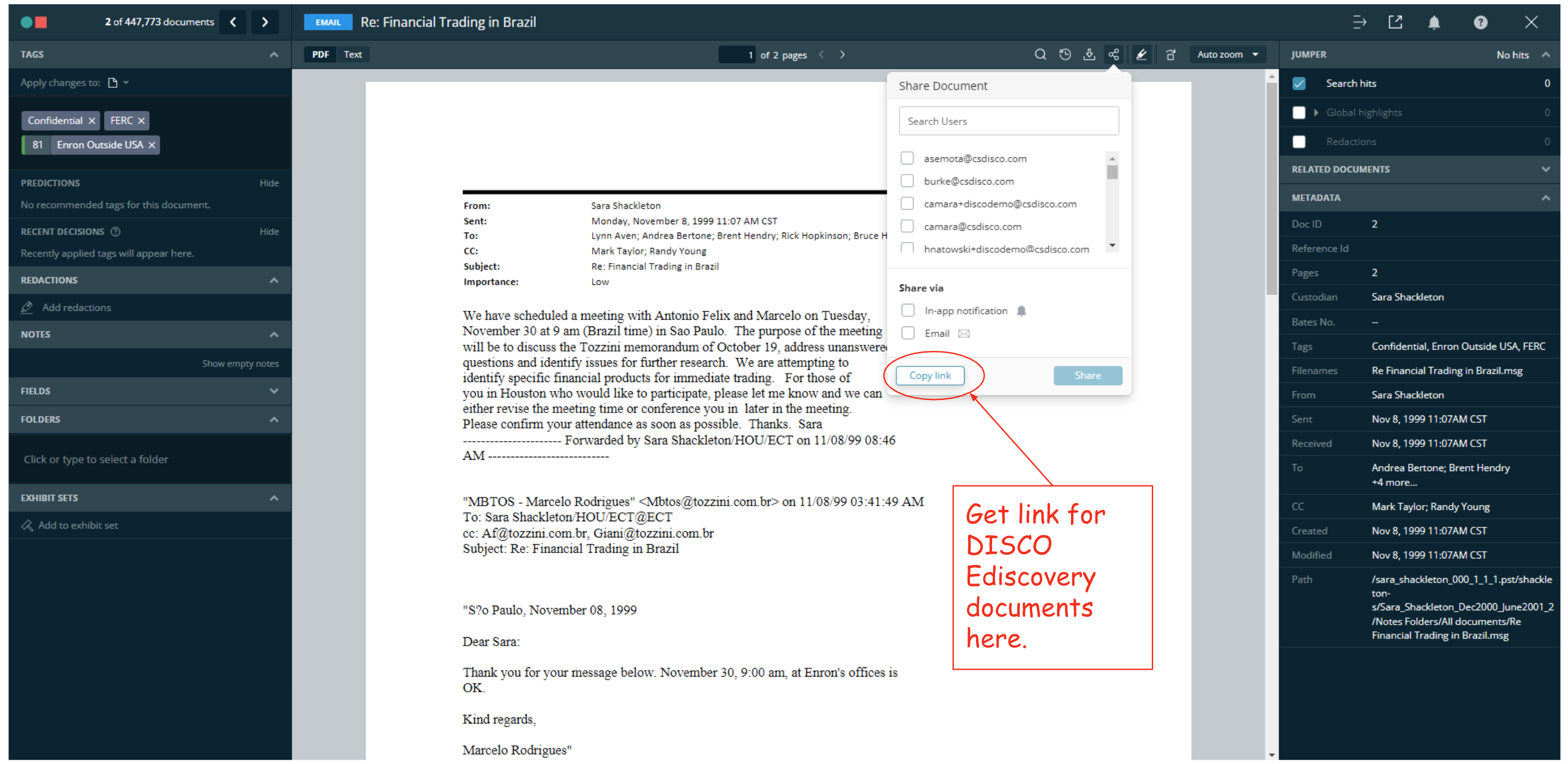 (linking any search, such as a folder)

Testimony from Case Builder deposition annotations can be linked by pulling their URL either inside a deposition or from the Annotations page.
(getting a link for an annotation inside the Case Builder deposition viewer)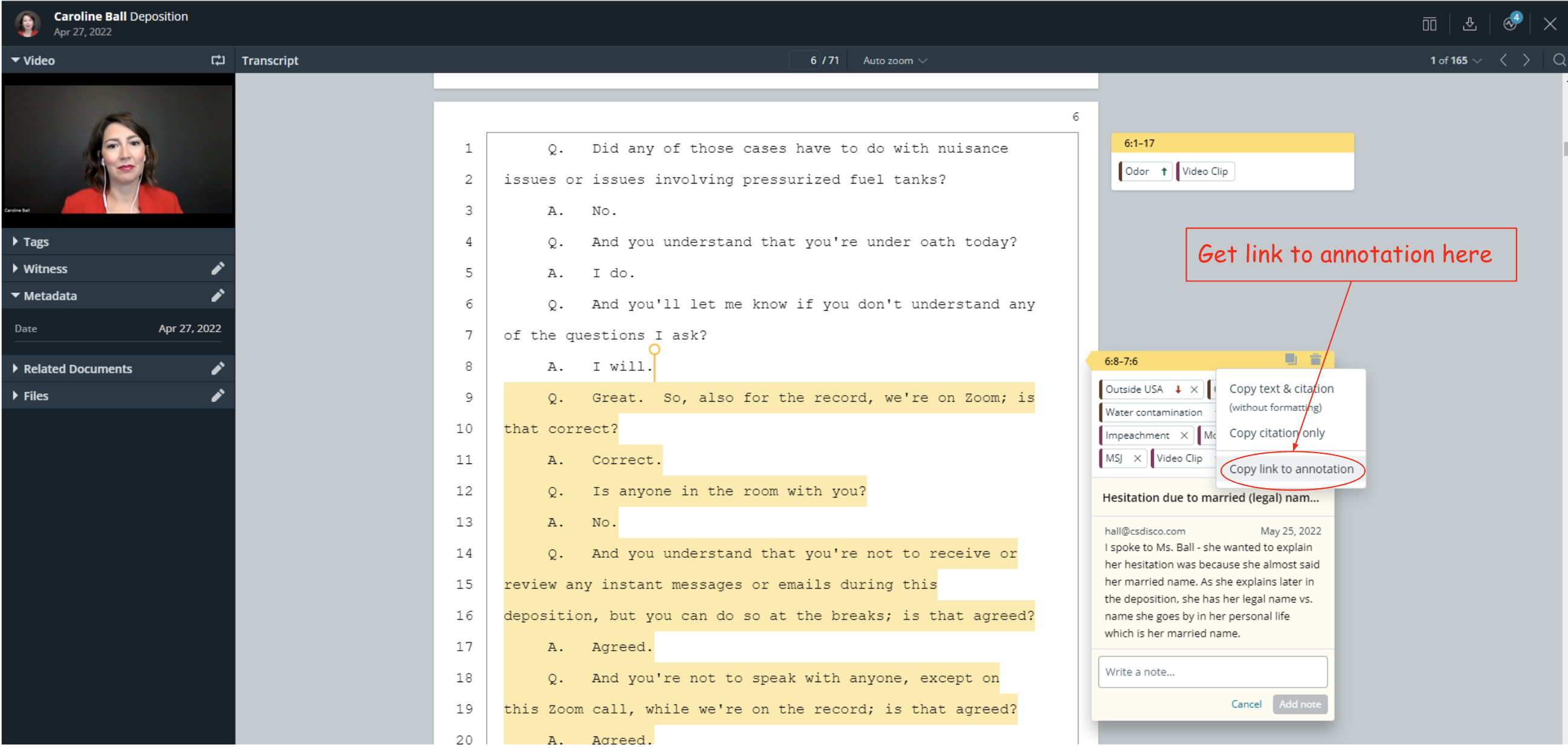 (pulling a link from the Annotations page)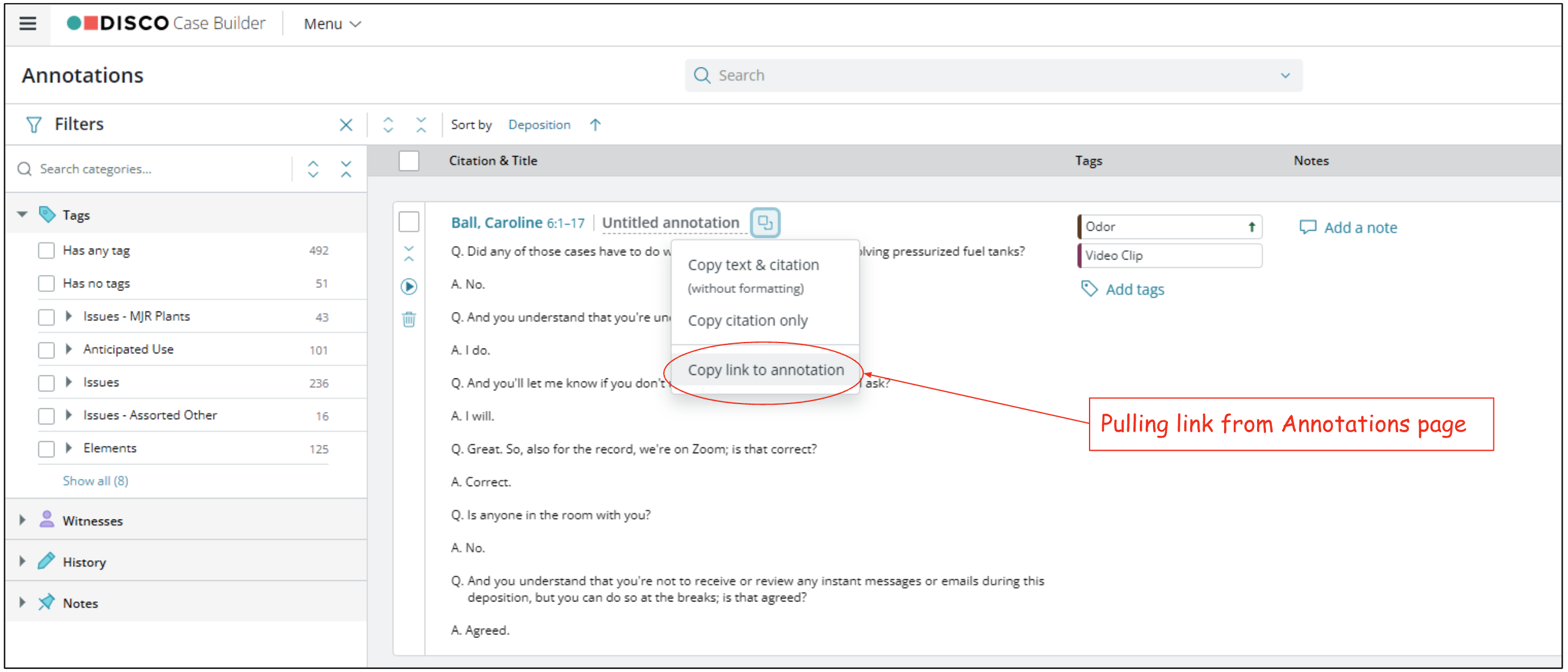 The timeline can sort facts by (1) Date, (1) Title, (2) the counts of Evidence, Tags, Witnesses, or Notes, (3) fact date creation, or (4) fact updated date. Note that using the creation or updated dates can give you an idea of which facts been recently added or amended on the timeline.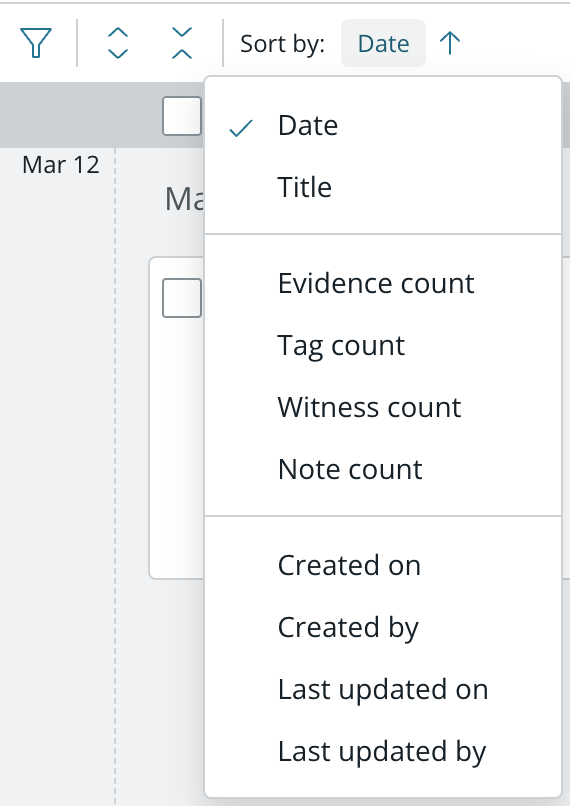 Once facts are created, you can expand or collapse the view of them all, or expand them individually as you engage the in-line edit feature of any individual fact.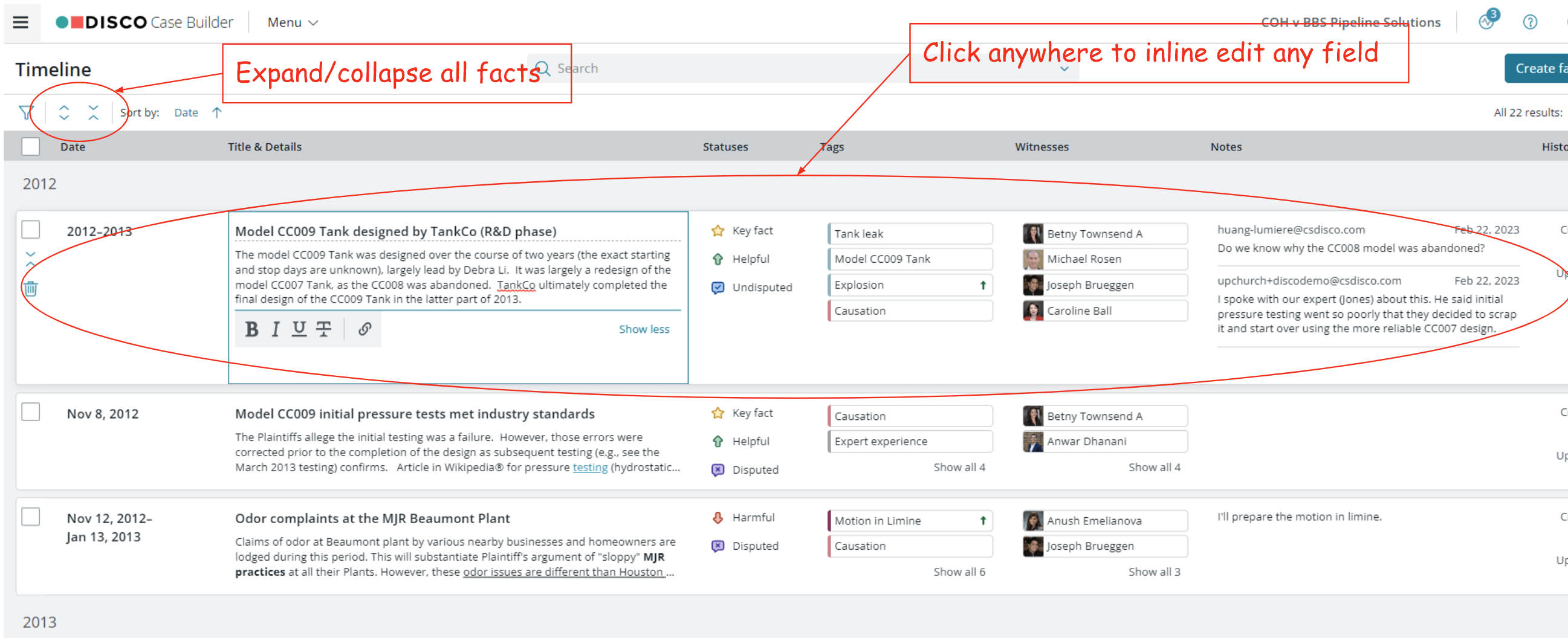 Relevant witnesses can be applied to any timeline fact. Clicking on any witnesses pulls up their witness profile.
Navigating the timeline is simple. You can simply scroll as you would normally on any webpage, jump to any location using the "minimap" on the left of the timeline. The minimap can be used for quick timeline navigation, and can also provide an idea of the number of facts for any given time period since the space between the dates are relative to the number of facts. Furthermore, the yellow lines on the minimap represent the number of key facts (which can be selected as a status of each fact) for any period.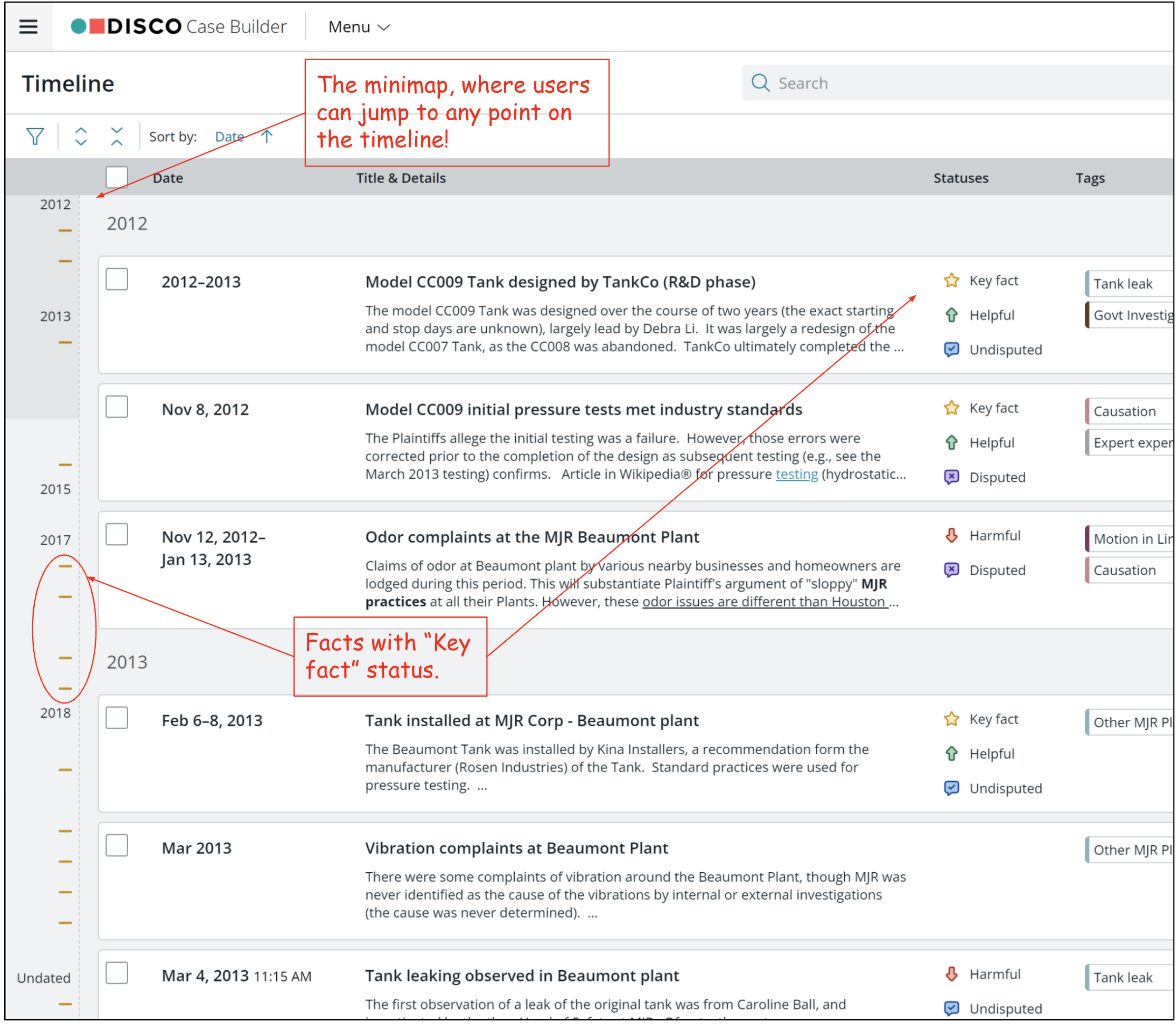 Just like the Depositions page or the Annotations page (or DISCO Ediscovery), facts on the Timeline page can be searched using keywords (e.g., using proximity searching), phrases, or fields.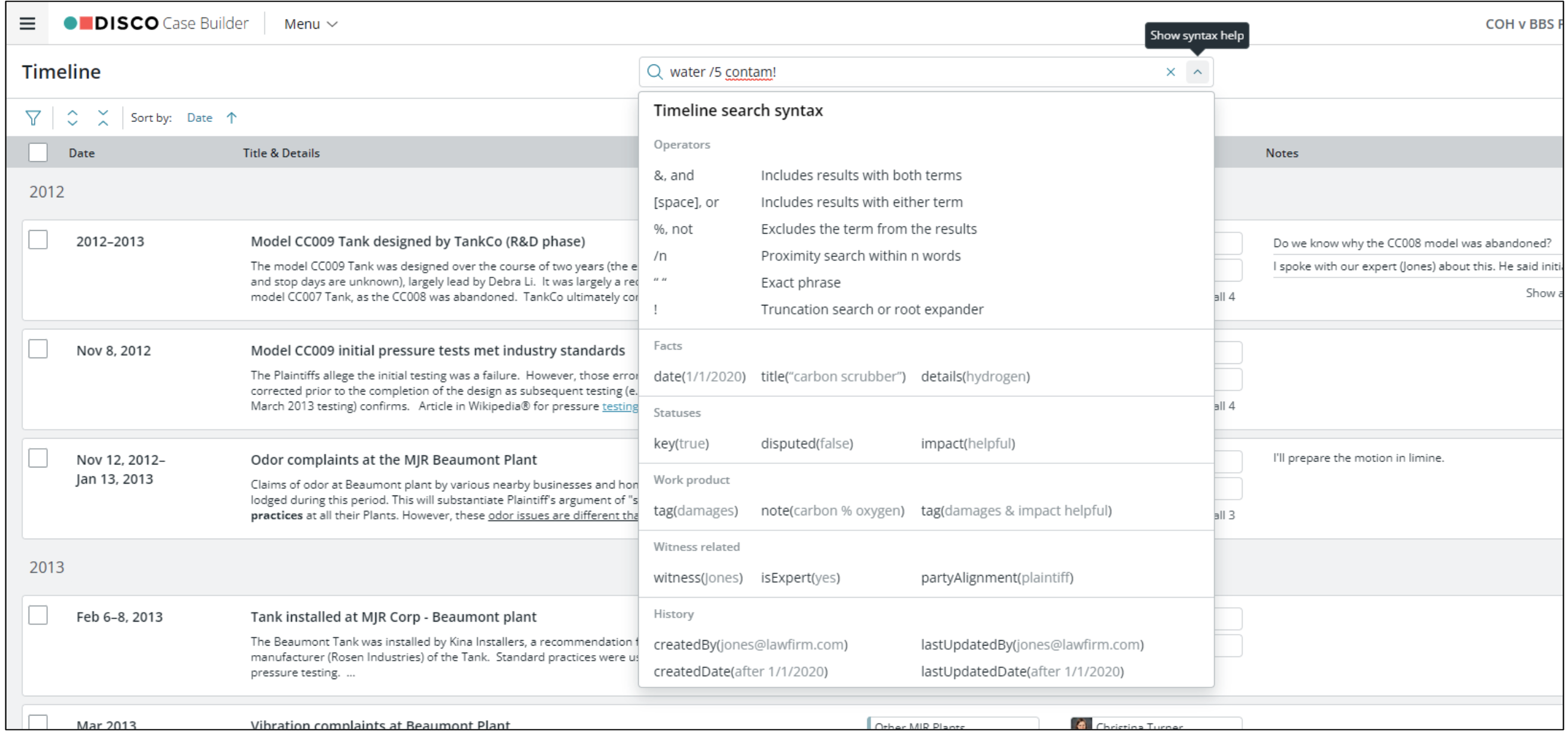 Facts can also be located using DISCO's filters. See more about filtering and searching the timeline here.
You can reorder columns in your timeline by dragging and dropping them into their desired location. The new view is a visual preference for that user on a specific browser, meaning that other Timelines users will not automatically see another's rearranged columns and clearing your browser cache will default columns to their original order. Please note that the export will only reflect the original ordering of the columns.
If you need your timeline facts offline, you easily export from the Timeline page using the export icon.

The timeline export is in Excel format, and will include all of the information for each fact. Note that the export will be scoped according to any search (or filtering) on the timeline.