Overview
Gain insight into your annotations without needing to know or use DISCO's (robust) search syntax. Annotation filters allow you to quickly search your annotations by categories such as Tags, Witnesses, History, and Notes. You can also use filters before or after running a search, such as by a key word or phrase, to further refine the results.
Navigating search filters
On the Annotations page, click the filter icon under the Annotations heading to open the Filters panel. Categories and subcategories organize the individual facets. Facets are the collection of terms and annotation counts for an individual search attribute. You can quickly expand or collapse the categories for easy navigation. Alternatively, search for the name of a category or subcategory to quickly limit the filters panel.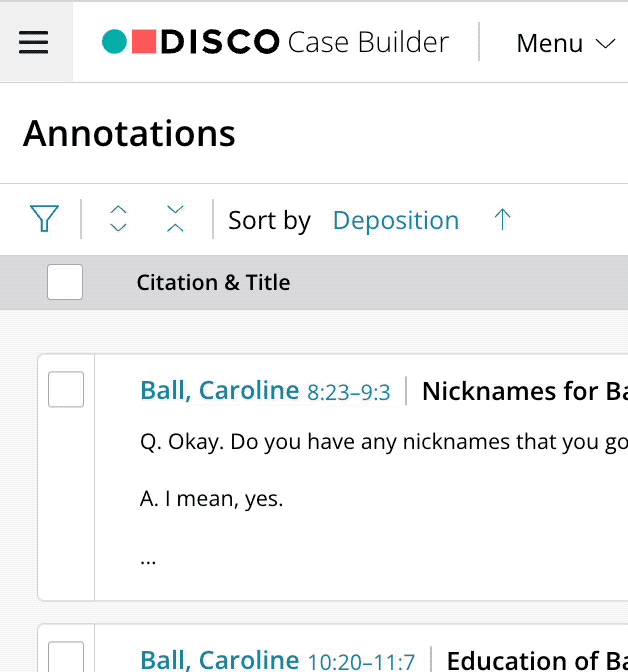 Tag groups are ordered according to their order on the tag page, which can be modified by users on that page. Other facets are ordered according to the number of annotations (or are fixed if the category is binary). If there are more than 5 facet terms, click Show all to display and scroll additional terms.
Searching for annotations with filters
Selecting a term will return annotations matching the facet criteria. Selecting a term in one category or subcategory will update the counts displayed in other categories and subcategories. Selected terms are displayed in pills above the annotations.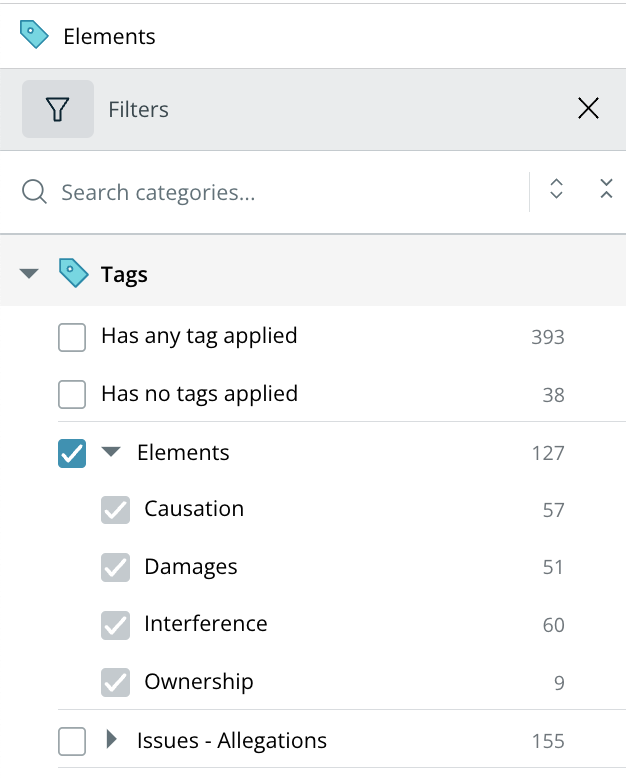 Select a parent facet, such as a tag group, to quickly select all of the individual filters in that group. In the example above, selecting the Elements tag group selects the Causation, Damages, Interference, and Ownership filters. You can also use shift-select to quickly select several filter terms.
Histograms help illustrate annotation distributions, and CaseBuilder currently supports them for some date range searches.
| | | |
| --- | --- | --- |
| Specific range | Before a given date | After a given date |
| | | |
There are 2 primary interactions to search using a histogram:
| | |
| --- | --- |
| Drag thumbs | Select range |
| | |
When there's an active histogram filter search, you can use the Add another link to quickly add more histograms and further refine your search criteria.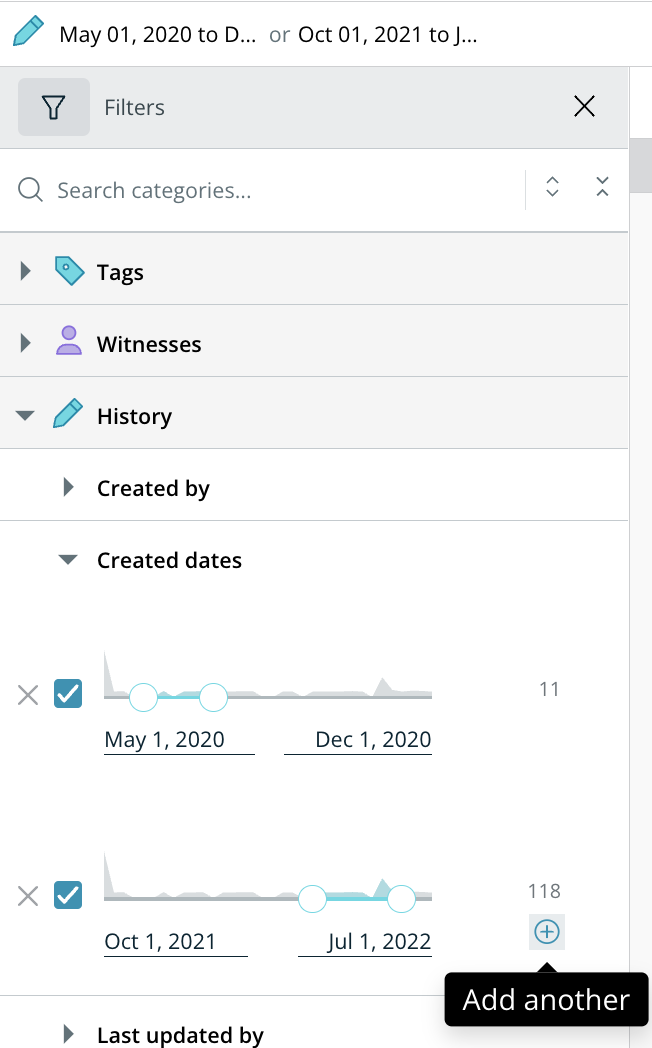 Search filter pills
For each selected facet, a pill is created. You can hover over the pill to see the full contents, which is helpful for complex search criteria. You can also click the pill to remove any specific term, or simply remove the entire pill from your search criteria: